Restaurants on Galveston Island
As we re-open our dining rooms, we continue to practice and take part in preventive measures to ensure the safety of you and your family.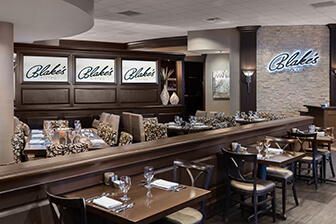 Hours of Operation
Daily: 7AM - 9PM
BLAKE'S BISTRO
BISTRO DINING WITH A VIEW
Enjoy authentic comfort food classics at Blake's Bistro, our newest restaurant! Featuring oversized sandwiches, gourmet burgers and fresh salads, diners are invited to enjoy our laid-back ambiance in the dining room or catch a game in the Bistro family-friendly lounge.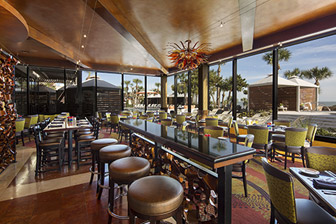 MENU




Reserve Your Table
Hours of Operation
Sunday & Monday: 4PM-9PM
Tuesday Closed
Wednesday & Thursday: 4PM-9PM
Friday & Saturday: 4PM-10PM
Pizza To-Go Daily: 4PM-9PM

GROTTO
CLASSIC ITALIAN IN A SERENE SETTING
Inspired by classic Southern Italian cooking, Galveston's newest Italian restaurant Grotto features delicious veal, chicken, seafood and house made pastas. Grotto's food and breath-taking décor are complimented by beachside views in Galveston Island's premiere resort and hotel.
Wine connoisseurs will be impressed with the extensive collection of Italian and domestic selections. With our winning combination of impeccable service, superb cuisine and passion for detail, Grotto is the perfect restaurant in Galveston for Italian dining.
Enjoy salad, dinner and choice of Chocolate Cake or New York Cheesecake for two for $28! For an additional $10 you can get Grotto's Pepperoni, Margherita or Cheese pizza. Available Sundays & Mondays dine-in, to-go or through delivery!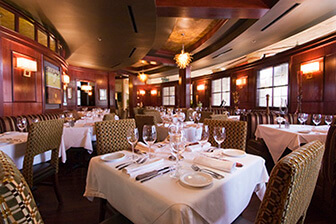 Hours of Operation
Sunday & Monday: Closed
Tuesday-Thursday: 6PM-9PM
Friday & Saturday: 6PM-10PM

THE STEAKHOUSE
ONE OF THE FINEST GALVESTON, TEXAS RESTAURANTS
Indulge in the Island's finest, award-winning cuisine at The Steakhouse, featuring USDA Midwest grain-fed beef, live Maine lobster and an award-winning wine list.
Recipient of the prestigious AAA Four Diamond Award® since 2004 and selected as one of the "Top Ten Texas Steakhouses" by food critic Tom Horan, The Steakhouse is an extraordinary dining experience for any connoisseur. The Steakhouse was also voted Best Steakhouse on the Coast by Texas Monthly magazine and "Best Place for Steak" by readers of the Galveston Daily News.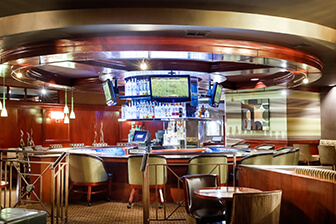 SAN LUIS BAR
Enjoy live entertainment, drinks and bar bites in this cozy private lounge. The San Luis Bar is the perfect place for libations and lively conversation before or after your meal at the adjacent Steakhouse.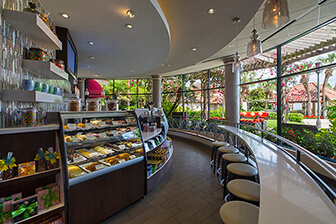 CUP + CONE
Located adjacent to Blake's Bistro is Cup + Cone. Homemade gelato, pastries, Starbucks coffee and an assortment of gourmet chocolate will tempt your sweet tooth at Cup + Cone. Grab a seat overlooking our tropical pool and enjoy a cappuccino or scoop of gelato!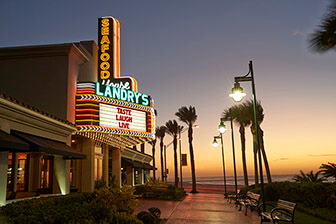 LANDRY'S SEAFOOD HOUSE
Enjoy a menu of mouthwatering seafood specialties, succulent steaks and panoramic views of the Gulf. From its comfy, covered outdoor lounge, enjoy an appetizer and a cool Happy Hour beverage.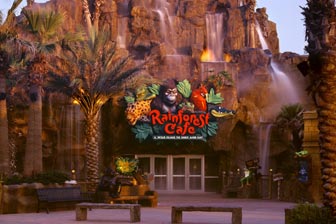 RAINFOREST CAFE
An adventure for guests of all ages, The Rainforest Cafe is the wildest place to shop and eat on the Seawall. Visit for a bite of American and tropical favorites, desserts and rainforest-themed souvenirs!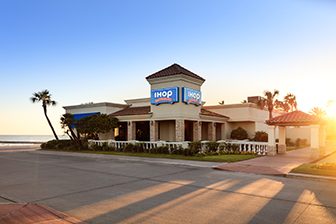 IHOP
Although IHOP restaurants are best known for their award-winning pancakes, omelets and other breakfast specialties, the Galveston IHOP has an unbeatable view. The restaurant is open throughout the day and evening offering a broad array of lunch, dinner and snack items as well for the vacationer's appetite.
Fine places to eat the whole family will enjoy...
Indulge in a culinary experience unrivaled on Galveston Island, where authentic flavors are apparent in every bite. Our Executive Chef maintains a mindset of innovation and excellence, delivering an exceptional experience for every guest. Savor house-made pastas at the award-winning Grotto Ristorante or tantalizing steaks and fresh seafood at The Steakhouse, recognized among Texas's top steak establishments. With an emphasis on the extraordinary, every meal at The San Luis Resort is an adventure worth repeating.
Featuring 10 unique restaurants, The San Luis Resort offers something for everyone. Landry's Seafood is a true Gulf Coast experience, while Rainforest Cafe presents fun for the whole family. With luxury around every corner and a picturesque beachfront setting, choosing where to eat from so many options will be the only difficulty you experience all day.